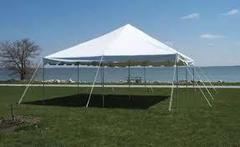 A Party tent rental 20x20
$299.00
Dimensions:
Outlets:
Monitors:
Elegant 20ft x 20ft Tent Rental
About to Bounce now has a complete line of commercial tent rentals ready to create your outdoor party and event spaces. This 20ft x 20ft provides 400 square feet of covered party space with room for up to six 8ft. tables and seating for 48 guests. Click the link below for a complete list of tent sizes, styles and guest capacities.
>> Click Here to view all Tent Listings <<
Event Seating Information
Cocktail Parties (stand up) 5-6 sq. ft./person
Dinner, using 8′ banquet table 8 sq. ft. /person
Dinner, using 5′ round table 10 sq. ft./person
Cathedral Seating 6 sq. ft./person
Dance Area 2 sq. ft./attendee or 5 sq. ft./dancer
Aside from main traffic aisles, allow 4 1/2′ between round tables for chair and service space and 5′ between banquet tables where seating is back to back. This permits 24″ service space behind 18″ chair depth.